Frequently Asked Questions
Technology Tips and Tricks
1. Each session is approximately 45 minutes in total. It is divided into 1-4 minute units so that you can stop when you choose and pick up where you left off, depending on the demands of your work or home life. We invite you to pace yourself accordingly so you do not feel any unnecessary pressure.
2. When you submit a Reflection, we will respond to you generally within 48 hours. Our comments can be found in the platform where you take your class. Once we receive an have acknowledged your response, you will be able to reach 100% completion of the course.
3. When taking the Quizzes within each session, there are typically 2-3 questions per quiz. The advance arrow that moves from one question to the next is on the bottom of the screen.
The quizzes are designed to reinforce key concepts. If your response is not accurate, simply review the information and try again. We aren't trying to trick you or stress you out, yet we do want to ensure the pertinent take-aways are highlighted and fully grasped. Remember, grades are not being given.
4. To augment understanding and relatability of each concept, we have incorporated scenarios from both work and home life. We have "Education" scenarios that relate to those who work in K-12 /higher education. There are also "Business" scenarios that relate to people who work in an office. You may choose to explore both stories, or just the one that you feel applies most to your situation.
5. Certificates are available once you have completed the session and we have acknowledged receipt of your Reflections. Please allow 48 hours for your reflections to be processed.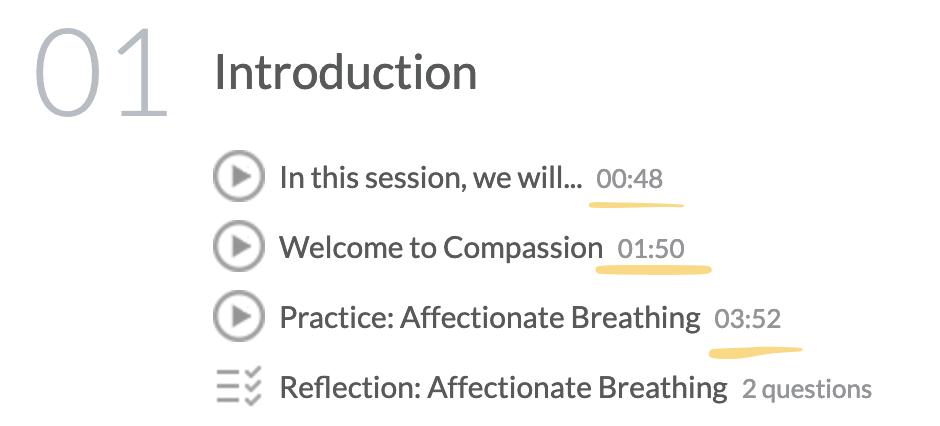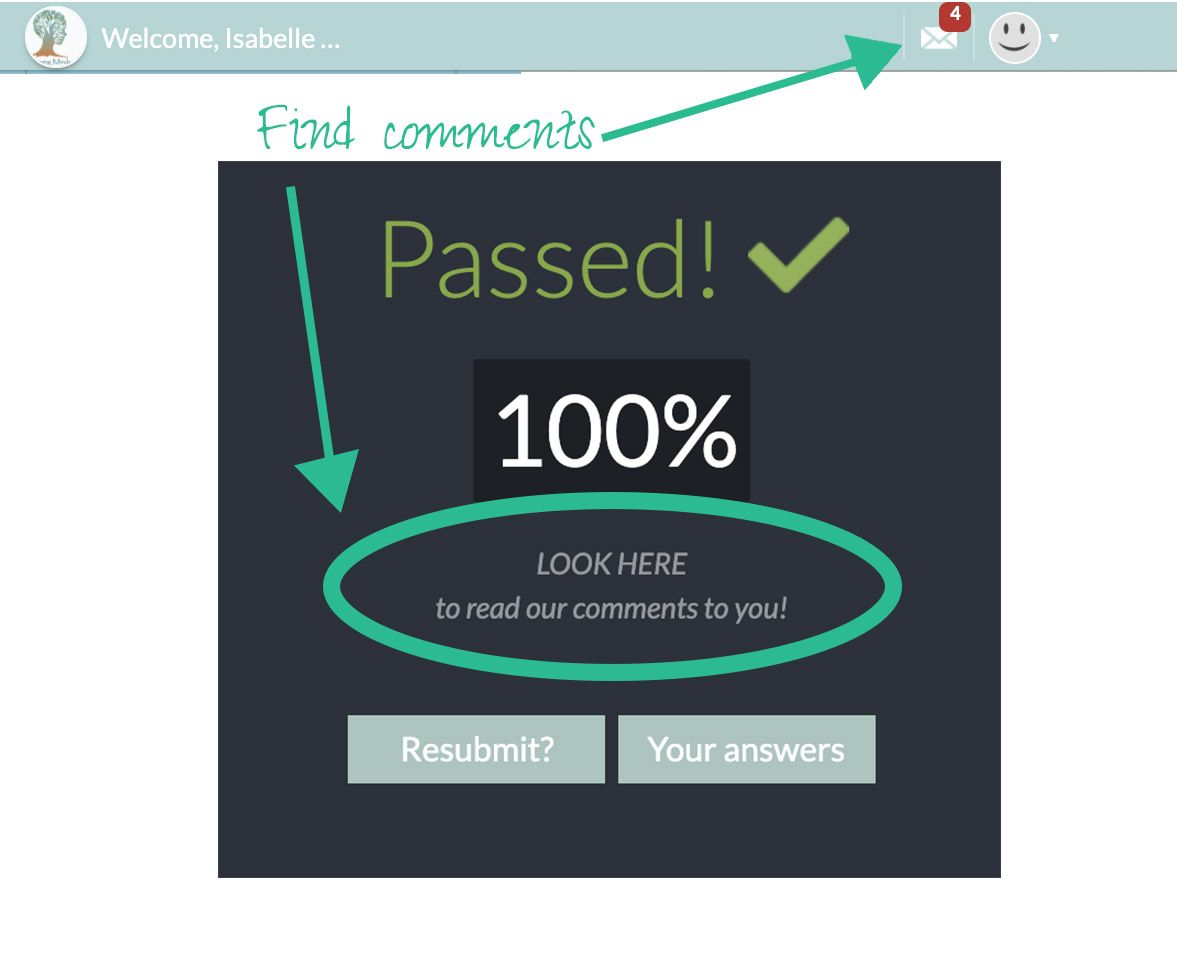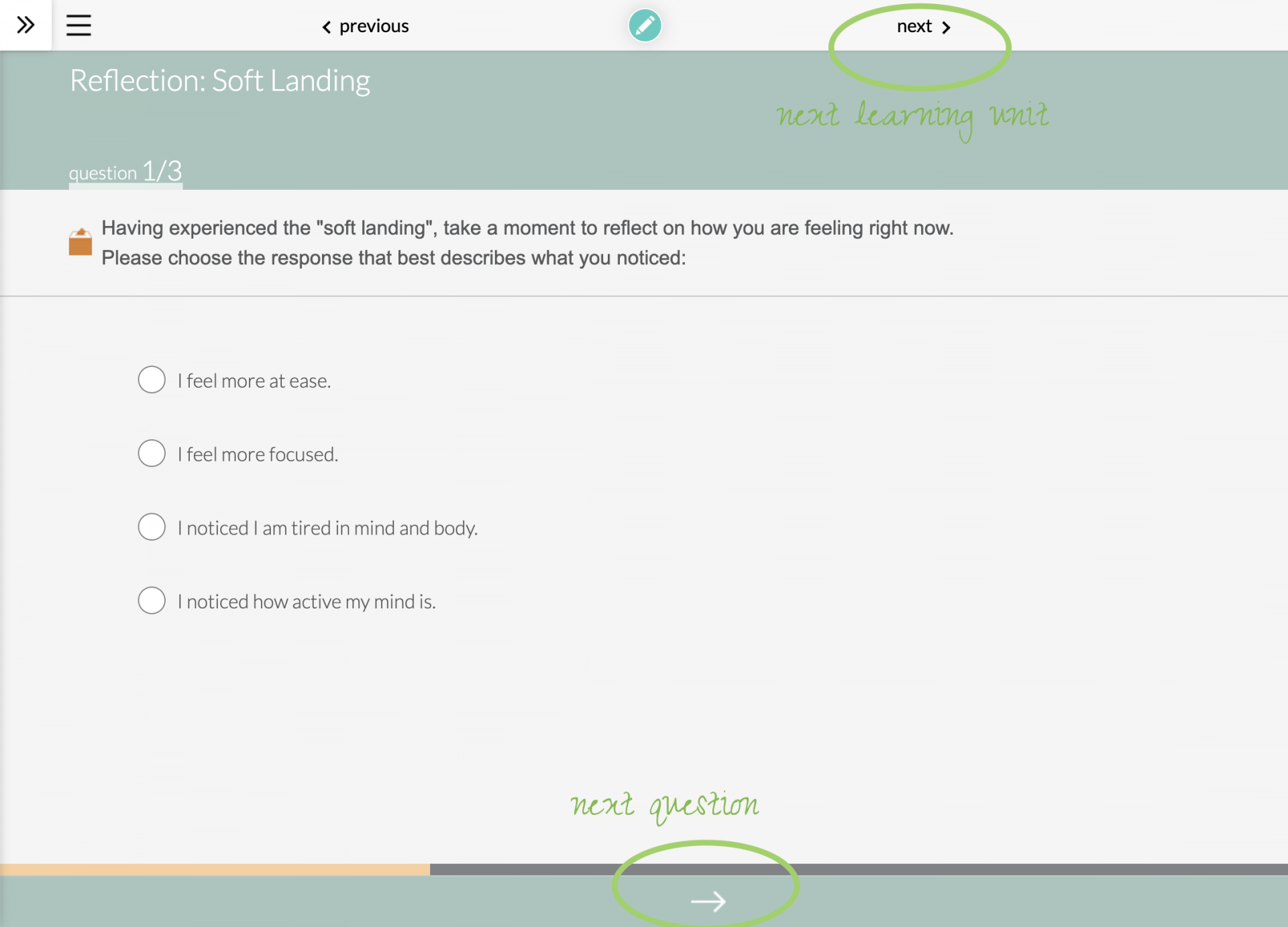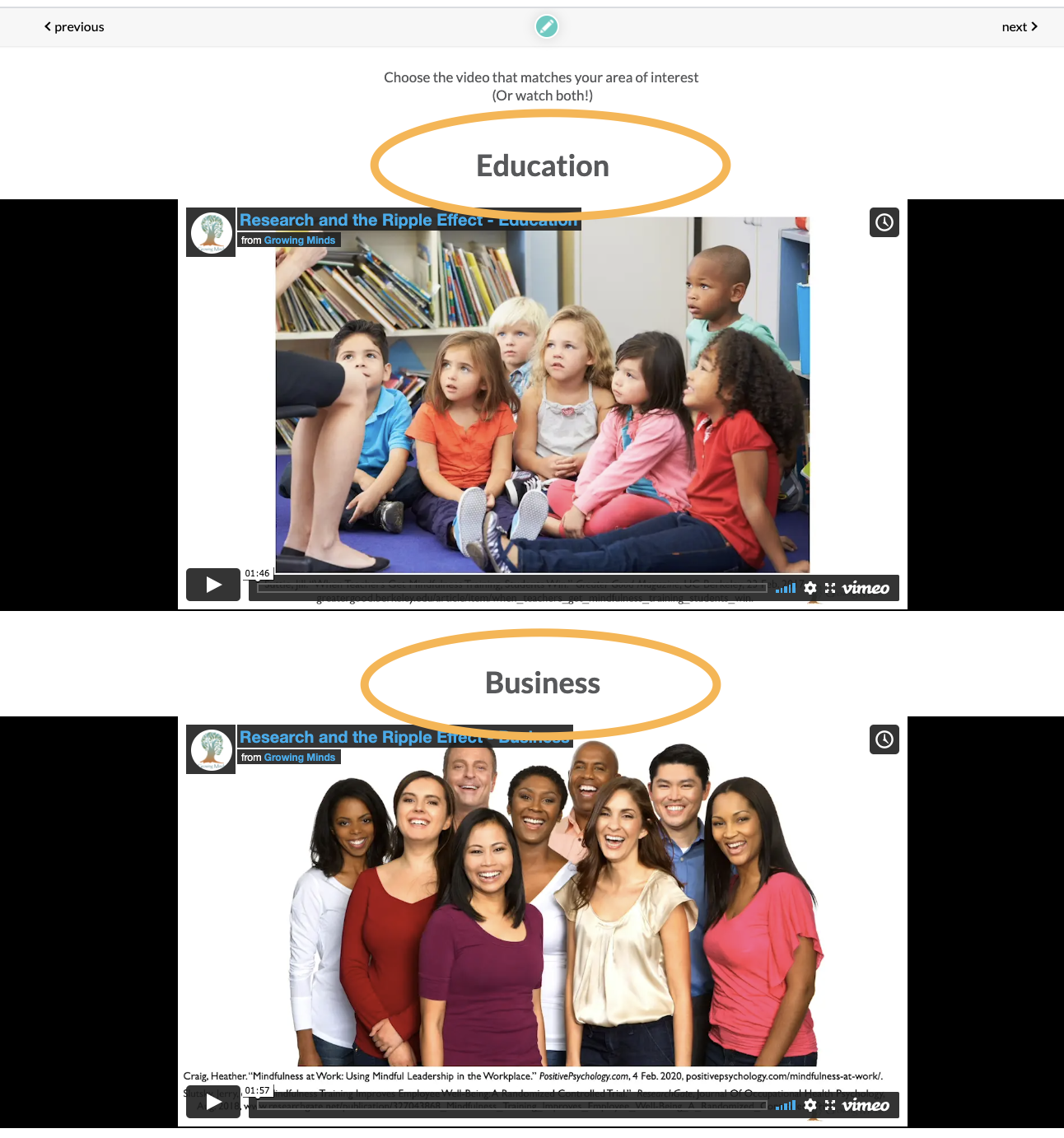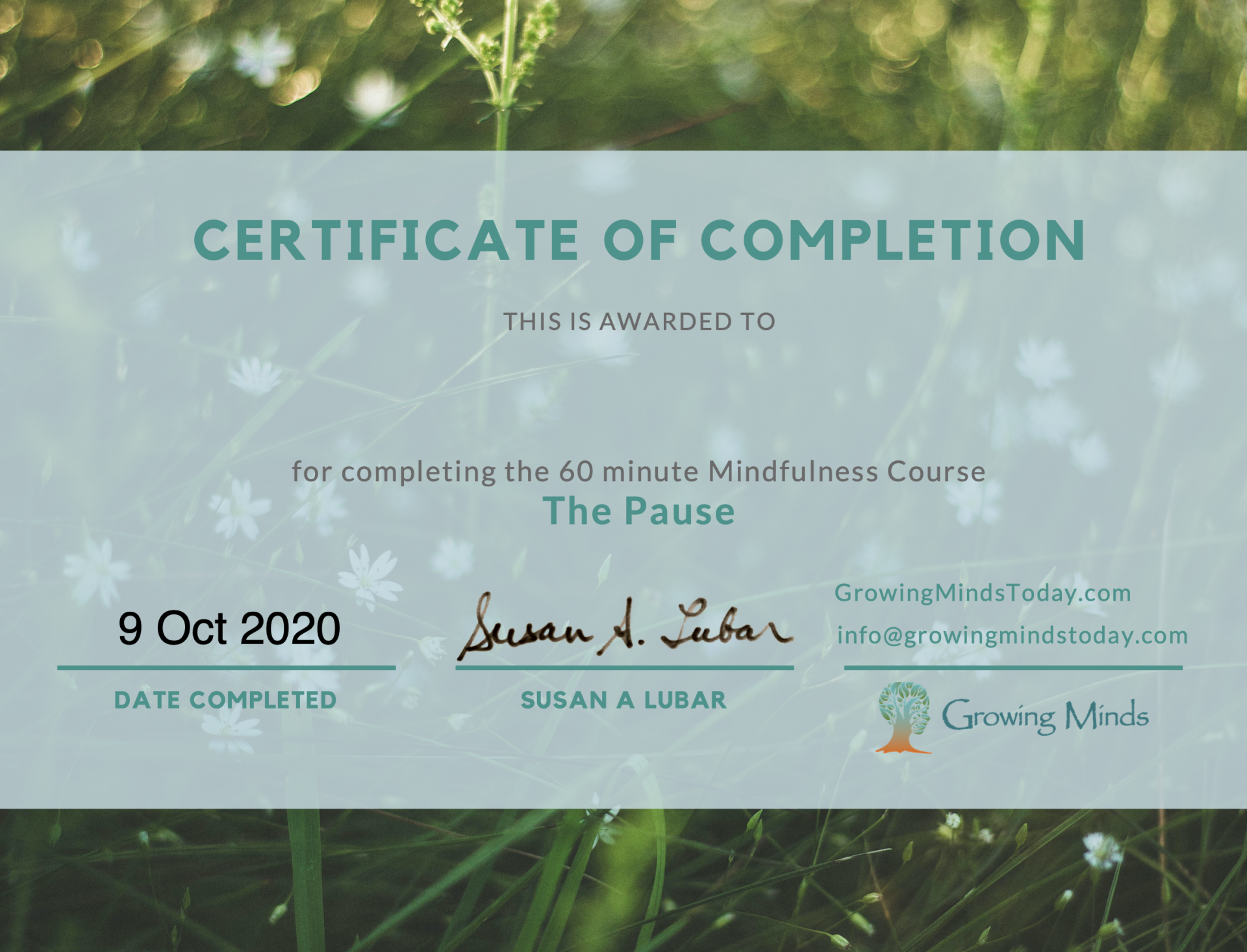 General Questions
1. How do you structure organization wide trainings?
Our goal is to help you regulate so that you can co-regulate and have stronger relationships, happier workspaces. The core of this content is in Foundations of Mindful Living which we offer online, in person, but most often, we customize it for specific group needs and bring it to your workspace.
2. As an individual, where should I begin?
Begin with asking yourself, "What am I looking to accomplish?"
If you want to support over a longer period of time, consider taking a bundle of classes so you can receive weekly reminders, ideas and guidance from us.
If your goal is to focus on one concept and integrate that deeply into your own life or family or workplace, you will want to identify that objective.
The Pause:
I want to learn the basics of mindfulness and how to take short breaks to reset my emotions.
Training the Active Mind:
I want to slow down my non-stop, overly critical mind.
Our Stress Response
: I feel reactive and would like to understand how to manage my stress
Compassion
: I want to learn to calm my emotions and support myself under stress.
Cultivating Positivity
: I want to hardwire happiness into my life and relationships.
3. Are you holding in-person trainings at this time?
We are currently hosting our live sessions through Zoom or similar platforms.
4. What is mindfulness?
What a great question. Being mindful is learning how to extend and maintain moments of undivided attention in the present moment with kindness and without judgment.
If you want to see more resources and answers to similar questions, please visit
Our Blog!
General Online Learning Questions
1. How are these sessions structured?

Each session is approximately 45 minutes. It is built in sections so you don't have to start and finish in one sitting. Whether you work 5 minutes at a time or drill right through it, you will find the teachings, practices, and reflections will keep you engaged. The course will keep track of where you are, so don't worry about losing your place.
2. What if I miss a class? How long do I have to complete each session?
There is no class to miss! You take it at your own pace. The course identifies the date each session is released, and how long you'll have access to it. The benefit of taking each session when released, is to keep yourself on a routine, for your own personal practice, and so you can read and contribute to the class discussions which have so much value.
3. Can I take the Sessions out of order?
There is definitely no harm in taking the sessions in any order.
We have created a sequence that we have seen beneficial: 1) The Pause, 2) Training the Active Mind, 3) Our Stress Response, 4) Compassion 5) Cultivating Positivity.
Feel autonomous choosing your journey!
4. How much out of class work will be involved?
Our motto is short times many times. There are no written assignments between classes, instead we ask that you practice your mindfulness and keep a practice log. We provide a downloadable, fillable PDF to track your own practices.
5. Who can sign up?
Anyone is welcome to take these courses! Mindfulness is helpful for all people, in all stages of life. We have specialized examples embedded within the course for educators and those who work in offices.
6. What if I can't afford the fee?
We value accessibility, and want to spread mindfulness skills far and wide. For that reason, we have a limited number of scholarships. Email hello@growingmindstoday.com to learn more.
7. What level of experience do I need to have with mediation?
Our courses are for anyone who wants to start or deepen their personal practice. If you are new to mindfulness, starting with our introduction and working through the sessions sequentially is ideal. If you are an experienced practitioner, you will benefit from both the content and the community to practice alongside.
8. Can I buy a gift card or a class for a friend?
We do not have gift cards, instead we have "Purchase this course as a Gift'. Click this text to learn more!
9. Can I get Continuing Education Credit?
While we are not licensed to give you CEU's, we are able to give you a certificate with the learning hours. We will offer whatever guidance we can in your process to get those hours accredited. If this is of interest, please email us at hello@growingmindstoday.com.
10. Can I sign up a group or team?
Absolutely! This may be repetitive by now, just email us! We offer special pricing, customized reminder emails, as well as support zoom calls. Normal text.